Goat farming business in Pakistan is one of the major agricultural practices that is been practiced in Pakistan. Goat is generally believed to be a poor man's cow, much more we have many people in this business in Pakistan, both old and young.
So, to start goat farming in Pakistan, you need to get information on how to rear a goat, capital to startup the business, a business plan, a secluded farm location, House for your goat, and a good feeding formulation for your goats.
How To Start Goat Farm Business In Pakistan [Beginners Guide]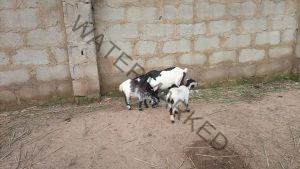 Here is a step by step guide on how you can start your own goat farming business in Pakistan;
Step 1: Get Information On Goat Management
First thing first, before you can venture into goat farming, ensure you have quality information and education on how to properly rear a goat.
Read Also: How To Start Goat Farm Business In Uganda [Beginners Guide]
How to formulate goat food, basic care for goat needs, and other vital information about goat management principles.
Step 2: Get A Running Capital
To start your goat business here in Pakistan, you will need money. Money is the wheel on which business success rides.
To keep stock, buy goats, pay farmworkers, and do other running on the farm, you will need to have a running capital.
Read Also: How To Start Pig Farming Business In Ghana [Beginners Guide]
Guide To Raise Money For Your Goat Farming Business In Pakistan:
Here is the easiest guide to raising a quick cash to start your goat farming business running;
Approach Banks for Soft Loan:
If you have a solid credit history and the ability to repay your loan if your business fails, you can apply for a business loan from a commercial bank, which can expedite the process.
Family Assistance:
You can ask for financial assistance from members of your family, including acquaintances, business associates, religious associates, and many other close friends.
Your goat farming business can get off to a good start by sending out social media broadcasts to a large number of people. You can bet that at least some of them will respond.
Read Also: How To Start Poultry Farming Business In Philippines [Beginners Guide]
Grants or Loans From Government Agricultural scheme:
As a new goat farmer, you may be eligible for agricultural loans and grants from the agricultural department of your state in order to start your business.
Step 2: Buy or Rent suitable farmland To Raise Your Goats
Finding a piece of land to start raising your goats is the next step. Whenever you're looking for a farm, keep in mind the possibility that a goat could escape and cause damage to someone else's property.
Toxic plants that could hurt your goats should not be located near your goat farm.
Read Also: How To Start A Lucrative Farming Business In Philippines
Step 3: Raise a Barricade or Fence around the Farmland
After acquiring your farm property for goat rearing, the following step is to enclose the farm with a perimeter fence. Barb wires, concrete blocks, logs of wood, and many other methods can be used to secure your farmland.
Step 4: Build pens for your goats
When you have a goat farm, you need somewhere to house your goats. To prevent vandalism and theft, the area should be properly walled off. The floor must always be spotless. Goats don't like wet flooring since they prefer a clean environment.
Step 5: Search And Buy Quality Goats Breed
Identifying high-quality goat breeds is essential if you want your goat company to be successful. Before putting money down on a doe, be sure you know its profile. People with a birth profile of just one child exist, as do people with a birth profile of two or three children or more.
As far as I can tell, you'll prefer a doe with a high birth profile over one with a low birth profile.
Step 6: Employ more hands-on your Farm
If you plan to start a large-scale goat farming operation, you should consider hiring additional farmworkers.
Read Also: How To Start Poultry Business In Ghana [11 Step By Step Guide]
One farmer may find cleaning the goat farm, taking delivery of doe at labor time, feeding the goats, and a host of other tasks taxing, so it's best to get additional help.
Step 7: Feed Your goat Well
To buy a goat and keep it on the farm is not what goat farming is all about. Goats' productivity and performance are boosted by the farmer's ability to create a good feeding habit for the goat.
In order for your goats to be as healthy and productive as possible, they need to be fed a diet rich in nutrients.
Step 8: Always Clean Your Goat Farm
A clean environment keeps rodents and other potential diseases away from your farm. You must instruct your farm workers to always keep your farm clean, and watch every goat's urine on the floor and other dirt that is found on the farm.
Step 9: Hire A Vet Doctor to Come Check On your Farm Regularly
Get a qualified Vet doctor in your environment to always come to check on your goat and keep your farm practices in check.
Doing this may cost you a little additional fee, but it will save you from impending death or diseases that may want to ravage your farm.
Benefits of Starting A Goat Farming Business
Goat milk has global value and demand:
Goat milk is rich in important nutrients and has a lower lactose level than cow's milk. Some of these are important diary needs that are recommended by physicians
Goats Fiber Are In High Demand:
Goats raised for fiber production are very common among goat breeders. Mohair, the fiber of goats, is highly prized and much sought after in the international market.
Goat Can Be Raise For Commercial Meat Production:
In addition to being delicious, healthful, nutritious, and easy to digest, goat meat is in high demand locally and internationally. Goat meat accounts for more than 60% of all red meat consumed worldwide.
Other benefits include;
Keeping goats in a herd with other livestock is possible since they are sociable animals.
Among the many uses for goats are their meat, milk, and hide.
As compared to a dairy farm or poultry farm, a goat farm in Pakistan does not require as much investment.
Goat meat is high in nutrients and in high demand, both domestically and internationally.
Goats are sturdy creatures that are impervious to a wide range of ailments.
The day-to-day tasks of goat husbandry in Pakistan are so simple that even women and the elderly can manage them.
Goat milk is superior to cow milk, and dairy goat farming in Pakistan can make a lot of money.
Helps poor farmers and offers jobs to other individuals in Pakistan.
This means that the number of goats on the farm can double at an astonishing rate just by giving birth to many youngsters at the same time.
It is possible to rear goats, even in small backyards.
Goats can eat weeds, grass, and pasture to clear a field.
To produce different crops, goat manure can be used
Pakistani goatskin is in high demand because of its high quality.
Goats have little issue adapting to local climates.
The gestation period is shorter in goats because of their early reproductive cycle.
In Pakistan, goat rearing is a unique and profitable enterprise.
In comparison to dairy and poultry production, goat rearing in Pakistan involves far less effort.
When compared to other livestock enterprises, goat farming in Pakistan is quite easy to establish.
Cattle take up more area than goats do.
How much does it cost to start a goat farm in Pakistan?
To start a goat farm in Pakistan, it is estimated to cost around 450,000 Rs.
Is goat farming a profitable business In Pakistan?
Yes, goat farming is a profitable business in Pakistan.
How do I start my own goat farm In Pakistan?
To start your own goat farming in Pakistan, You need to get information on how to rear a goat, capital to startup the business, a business plan, a secluded farm location, House for your goat, and a good feeding formulation for your goats.
Conclusion
So starting a goat farm in Pakistan should not be a herculean task rather, what is anyone can easily pick and start.
We have given a step-by-step guide on how you can start a goat farm in Pakistan and all you need to know, if there is additional information you want us to provide, kindly drop them via the comment section below.